February Market Update: Is it a Buyers or Sellers Market – Is it a good time to Sell?
What is the definition of a Buyers market? Below is an Ottawa general analysis.  Please note results will vary from one part of the city to the next and also depending on the type of home you have.  For instance you might be in Seller's market if you have a property that is in higher demand (i.e. bungalow), or if you live in a desirable area.   Contact me for your area specific report.  Two methods are used to determine whether it is a buyer's or seller's market:
Method 1
New listings in Month/Sales in that month = X
If X is less than 35% , buyer's market
If X is greater than 55%, seller's market
The ratio for Ottawa for February was  X = 40%, indicating the market is balanced, and leaning towards buyer's market.  See two bar charts below (February is last bar in each chart)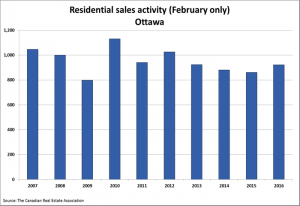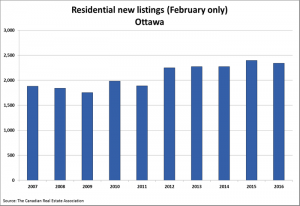 Method 2:
Buyer's Market = 6 or more months of inventory
Seller's Market = Less than 3 months of inventory
Neutral Market = 3-6 months of inventory
Ottawa's Inventory at the end of February was close to 7 months, indicating a buyer's market.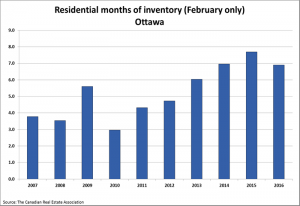 Why is one method indicating balanced whereas the other indicates buyer's.  It is because we entered the month with so much residual inventory.
It is time to sell?
If you are thinking of selling, spring is absolutely the time.  See graph below which shows that sales prices are always highest in the first part of the year.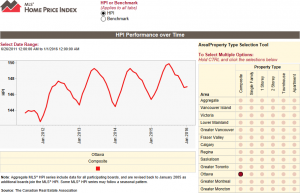 Would you like a detailed analysis of your area to see if it is a Buyer or Seller's market.  Would you like to know how long your your neighbours have been listed for and what they have sold for.  If so, please don't hesitate to contact me.
[gravityform id="4″ title="false" description="true"]
Below is more information from the Ottawa Real Estate Board
Ottawa, March 3, 2016 – Members of the Ottawa Real Estate Board sold 911 residential properties in February through the Board's Multiple Listing Service® system, compared with 850 in February 2015, an increase of 7.2 per cent. The five-year average for February sales is 908.
"Although the weather was very unpredictable this month, with many highs and lows and several winter storms, the Ottawa resale market only saw activity pick up," says President of the Ottawa Real Estate Board, Shane Silva. "Residential and condo sales combined increased by 52.3 per cent since last month. However, we need to factor in the leap year, which added an extra day to the month of February, and 46 sales on that day alone."
February's sales included 199 in the condominium property class, and 712 in the residential property class. The condominium property class includes any property, regardless of style (i.e. detached, semi-detached, apartment, townhouse, etc.), which is registered as a condominium, as well as properties which are co-operatives, life leases and timeshares. The residential property class includes all other residential properties.
"In February, 2,312 homes were listed, up 26.6 per cent since January, and inventory on hand at the end of February rose by 10.7 per cent since January," says Silva. "We're starting to see more homes coming onto the market in preparation for the busy spring selling season. If you're thinking of putting your home on the market, this is a great time to do so."
The average sale price of a residential-class property sold in February in the Ottawa area was $384,632, an increase of 1.2 per cent over February 2015. The average sale price for a condominium-class property was $249,727, a decrease of 6.8 per cent over February 2015. The Board cautions that average sale price information can be useful in establishing trends over time but should not be used as an indicator that specific properties have increased or decreased in value. The average sale price is calculated based on the total dollar volume of all properties sold.
"The highest concentration of properties sold continues to be in the $300,000 to $400,000 price range, followed by the $200,000 to $300,000 range," says Silva. "These price ranges continue to have the highest concentration of properties sold – residential and condo – while two-storey, bungalow, and one-level condos have the highest concentration of buyers. In addition to residential and condominium sales, OREB Members assisted clients with renting 414 properties since the beginning of the year."